I think you guys probably know by now that I am a huge bookworm. I absolutely love to read.
Books are actually the one item that I'm not minimal about. I love my books, and I reference lots of them again and again or lend them to friends (I'm the friend that's constantly recommending books!).
This month is #AllieReadsOctober, and I did this last year where I shared with you the books that I'd read throughout the year. And I'm back doing it again this year!
I'm not sharing every single thing I read this year, but these are the books that I feel are worth mentioning and that I would encourage you to read.
When I make these lists I don't go through my shelves and scan for books. I sit at my desk and I don't let myself look at my book collection and I just think, "What books stood out to me? What made an impact? What do I remember off the top of my head because it was that good?"
These are those books! And I'm so excited to share them with you because I know how overwhelming it can be to find your next read. And how much it sucks when you spend time and money on a book and then you really hate it. Or worse, you find that you really disagree with the message.
So, I'm hoping to help you avoid that and to help you comprise a really great reading list.
I am linking all these books in this post and they are affiliate links! I appreciate you clicking to buy via MY link as a thank you for doing #AllieReadsOctober.
OK, I know that not all of you are entrepreneurs, but the truth is I read a lot of business books this year. So, I'm going to share a short list of business books for those of you who are entrepreneurs, and then I'll get to my list of "regular life" books for those of you who aren't.
---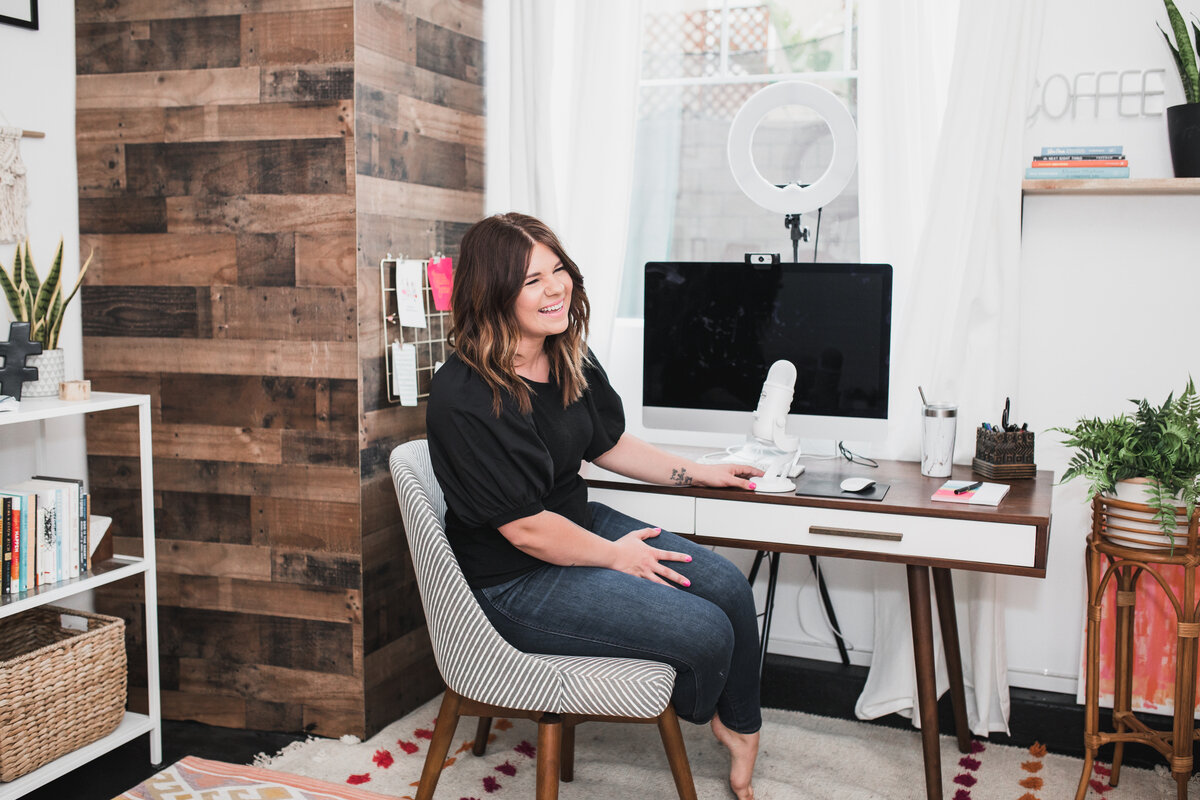 Sidenote: I've been doing business coaching and LOVING it.
I have a couple of spots available right now so, if you are an entrepreneur and you want to grow your business like mine has grown (from zero to multiple 7 figures in less than 2 years), I'd love to help you.
I know what to do and I know how to "do it yourself." I didn't pay for any ads or hire any help for a very long time.
I did everything on my own and everything organically—with four kids in tow (and I was homeschooling). Everyone's story is going to be different, but I know how to grow a business and I'd love to help you grow or start your business.
So, follow this link and let's take action and get you where you want to go!
---
Now, let's get down to biz…ness books.
Gary Vaynerchuck's branding is very masculine and abrasive. And he is too. BUT his wisdom is just incomparable. This book is very visual. It basically gives examples of social media posts on every platform there is. He dissects the good, the bad, and the ugly of corporate social media, and dives into why this post really sucked or why this post was really, really smart. The book is full of just genius marketing examples. I loved it. It really helped me. I sent it to my Facebook ads person and they also loved it. So, this is just a really good visual book to have on hand when you're forming your social media posts.
If you're not aware of what tapping is, it's almost like a combination of mindfulness and affirmations with the way your body works. It's a really unique area, and this was a really unique read for me. It's definitely not for everybody so, research it before you buy it. Having said that, it did help me tremendously in that it helped me fine-tune what my goals are, what I want for my business, what I want for the money that we make in the business and how I want to use it, and also, how open I am to receiving that money.
I absolutely believe that you can stop the flow of money in your life. I had a lot of money blocks and mindset issues surrounding money when I started my business and this book really helped me work through some issues relating to that.
This is a follow-up to the book, "You Are a Badass"—which I believe I mentioned in #AllieReadsOctober last year. But I'm bringing up this version because it's that good. If you struggle with feeling weird about money, or about making money, or if you can't seem to make any at all, read this book. Whether you own a business or not, read this book. It's that amazing.
This is kind of a classic. And I feel like I was one of the last people to read it. If you're looking to launch a digital product—or anything really—this book is a great place to start. Jeff also has a program about this strategy that he sells, as well. So, you could check that out too.
Denise is a money-mindset teacher. And she's my favorite. She's Austrailian and I love listening to her talk. Her wisdom, her expertise, and the way she speaks so graciously to the people who follow her is just so good and refreshing. I am almost finished with this book and it's just been incredible. Denise has genius ideas about how to have a business and a life that you love without being so overworked, overrun, and overloaded with work stuff that you hate your job and your life. So, this is a super important read.
OK, that's it for the business side of things. Let's dive into the other books I read and loved this year!
This book is basically like a journal that the author kept on a year-long wellness journey. The author was having some health issues and so, she decided that each month she would focus on totally-clean-no-chemical-nothing-fake-wellness in a different area of her life (like her eating, her drinking, her beauty products, and so on).
The message behind this book really spoke to me because, as I've shared before, I've been going through a wellness journey myself and I've been learning so much. So, I was curious to read what this woman did and what she learned. My biggest takeaway from this book was to just be mindful of what you put on and in your body. And also that you don't have to do everything at once.
This book is really fun! It's a really light and easy read. And it's cute too! It would be really cute to have on your coffee table—which I care about so, I just want to plug that in there.
This book was so good. I actually just had a really big conversation with my little brother about it and I gave him my copy (which he's reading and loving already). It's basically about how your environment has a serious effect on you and is really responsible for a lot of what you say, think and do. The author gives an example from his own life of how he and his wife would often have dinner with their neighbors—who were also a couple. These neighbors would often have really snarky, sarcastic, blunt, and negative senses of humor.
My own sense of humor is really dry and sarcastic. And you either love it or hate it. So, I was like, "Pay attention to this section of the book, Allie."
But anyway, this guy's neighbors had taken that kind of humor to an extreme. They were just extremely negative and they would come over and joke about their other neighbors and make fun of the way they mowed their lawns or dealt with their pets, or whatever. And the author found that whenever he and his wife would eat dinner with these people, they would take on that personality type and they would join in and also be kind of rude and gossip-y even though they normally weren't like that at all. And it just showed that what you are around, you become.
So, it's really important to have boundaries and to be guarded and aware of your environment. He goes on to teach about when to avoid an environment and what to do when you can't avoid a certain environment but it's negatively affecting you in a big way. He writes about how to counter it. This is a super life-changing, amazing book. I highly recommend that every person read it because our environments have a serious effect on us.
I actually read this book last year and then I read it again this year. I love it so much. I absolutely cannot say enough about this book. I get really emotional when I think about it, and I want to talk more about this soon. It's been heavy on my heart for about a year, but it's a careful conversation that I want to have at the right time. But this book changed my life. Deeply. I was brought up in a private, Christian school where I felt that I was taught that women are not leaders. Women are secondary and women are not made to be strong except for, you know, childbirth.
This issue really came up for me as an adult when I began my business and I realized that I was becoming the entrepreneur that I was made to be but didn't think I could be because I was told I shouldn't be. This book woke me up to what I was missing out on—the calling I was missing out on. Growing up I was told that women shouldn't be focused on anything but their families. That it's wrong to focus on anything else. That message was so black and white for me. And honestly, I still receive receive messages like that from women who believe that way. And the thing is, I understand why they believe that way. Because I did too.
But I read this book alongside my Bible. I referenced and re-referenced things. I looked things up and read different translations of different Scriptures. I talked to people. I talked to my pastor. I asked questions. I prayed. I sat in this idea and asked God for guidance so many times. This wasn't something I read lightly. And my biggest takeaway was that the Bible does not condemn women in power. And that everything I was taught (well, most everything) about the role of women was wrong. That set me free and gave me so much joy. It lifted me up and changed my life in a very, very deep way. And I'm so grateful to my God for bringing the right resources into my life when I needed them, and I'm so grateful to Sarah Bessey for writing such a brave and difficult book.
I'm so passionate about coming up against the belief that women cannot do anything in leadership. That they shouldn't be the breadwinners; that they shouldn't lead anything. I'm so against that. And it feels so good to say that. For so long I was asking, "Why God? Why did you give me all these ideas? Why did you give me this business if it's wrong?" And this book was such a huge part of my self-discovery and the discovery of truth.
That's all I'll say here, but if you were raised in the typical, traditional camp and you have also struggled with this, please read this book. My husband, Brian, has read it. I'm going to walk through it one day with my children. This is such an important book.
Disclaimer: This book is kind of like Jen Sisero's book in that there's cussing. She's a super chill person, But she's just kind of her own self, and she drops some f-bombs. So, read it for yourself. Or don't read it at all if you don't like that kind of thing. I don't mind. It doesn't bother me. So, I will read books like this. I can take the meat right off the bones and it doesn't bother me.
Also, I would recommend not listening to the audio book—which is what I did. The hashtag is a really big part of this book because the author encourages you to take action and post and tag her and let her know when you're doing what she's teaching. So, you'll hear, "Use hashtag-hustle-believe-receive" or 'hashtag-dream-it-do-it" a lot. And let me just tell you that you're going to want to throw your phone into the lake, go get it back out, and set it on fire because you're going to be so annoyed by the overuse of the word "hashtag" in the audio version of the book. So, read this book in print if you're going to read it.
This book is very unique. I have never come across another book that was formatted exactly this way. The author shares her own personal story of how she came home one day to realize that her husband was having an affair and planning on leaving her. So, they split up. She had three kids on her own with no money and no job. She'd been a stay-at-home mom, and now she had nothing.
She had to figure it all out for herself. And she built herself into this incredible entrepreneur, this elite person, who took charge and control of her life and figured this thing out from the ground up. And I really admire her for that. I relate to how she built something from the ground up. Of course, I had my husband, my partner in life, next to me and she didn't have that so, I really respect that about her.
She's a very pointed writer. She gets to the point and she will kick you in the pants when you need it. She also interviews like 21 other people who have done the almost impossible and have done it really well with not a lot of money and not a lot of privilege. These are people who have done incredible things and built their lives into something exciting–something they really wanted it to be.
My takeaway from this book is that you can do anything that you set your mind to. It's a very inspiring book. I really, really enjoyed it. I recommend you read this book if you are working on anything in your life. Getting healthy, overcoming an illness, starting a business, breaking away from an abusive relationship. Whatever it is that's hard for you, get this book and read it. It's something you can reference over and over again and just be inspired anytime you need to be.
OK, so those are the books that I read this year that really impacted me—business and otherwise. I hope this is really helpful for you.
I hope this gives you a starting point or a jumping off point for finding your next read. I believe that reading is so important and that we all need to do more of it.
You learn so much from books. So, buy yourself a book (use the affiliate link I provided, please!) and get to reading!