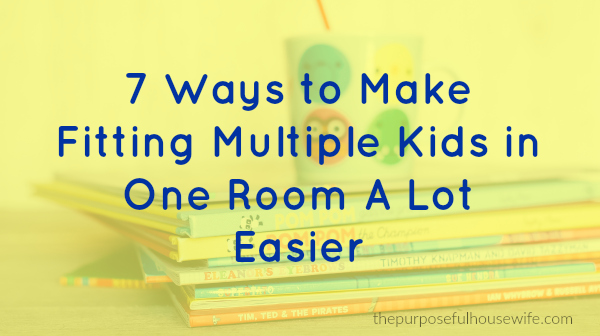 There are lots of reasons you might have to fit multiple kids into one bedroom. We've done it in most of the houses we've lived in. We're renters, and we enjoy moving from place to place, so things change pretty often for us. We're also minimalists who like to spend our money on experiences over square footage, so at this point, fitting our kids into one room is a choice that our whole family is used to and enjoys.
We have four little kids (they're all age seven and under right now), and our oldest is our only girl. So typically we put the three boys in the same room, but we've re-arranged that set up over the past few years. One thing is for sure… I've learned a lot about the right way to fit multiple kids into one bedroom, and I think I've got it down by now.
Whatever your reason for reading this post – moving, downsizing, saving money, or just curiosity – I hope you find my tips for this little lifestyle tweak helpful!
1. Use vertical space whenever you can! This is number one on purpose; it's the best, most impactful tip I've got. Using vertical space over horizontal space is huge for shared bedrooms and small spaces! You can use vertical space in lots of different ways – bunk beds, hooks, shelves, and simply turning things like shelving units on their side to lay tall rather than wide.
2. Utilize the closet in a way that suits your needs best. Kids clothes are shorter, giving you lots of floor and wall space for storage underneath them. We've fit an extra dresser under the hanging clothes in a closet before. We've also used that area to store the toy bin, shoe racks, we've hung hooks under there to store backpacks and hats… get creative, but ask yourself what you could use that space for more than anything else. The added benefit of using this space is that it's got a door, and can be hidden, so it doesn't have to be holding pretty things.
3. Another note on the closet – use the top shelf! Because it's a kids' room and the top shelf in the closet is obviously too high for them to reach without climbing, lots of parents let it go unused. This space is awesome for that very reason! Use it to store things you don't want your kids to have free reign on – Lego's, puzzles, messy art supplies, etc.
4. Apply minimalism when it comes to clothing. We all know I will toot the horn of minimalism until I can toot no more (most awkward sentence on the blog, for sure), but it is really beneficial when it comes to clothing, particularly in a shared space. Our three boys share one large IKEA dresser. You read that right! They have only the clothes they need, wear, that fit currently, and are not stained or damaged. They aren't lacking any clothes they need, and I don't store any spare clothing elsewhere – and it all fits just fine into one large dresser. Your kids don't need as many extra pairs, spares, and hand-me-downs as you might think they do. Go through their clothes and create space by asking yourself the following questions about the articles of clothing they've got in there now:
– Does this currently fit and is it in season?
– Is it stained, ripped, or damaged?
– When was the last time this was worn? (more than 4 weeks? Chuck it.)
By the way… This is the dresser we use, and we've painted it a bold and bright shade of yellow.
5. Save space by storing things in other areas of the house. Toys (minimalism is huge here too!) can be stored in a bin that goes in the hallway closet, behind the sofa in the living room, if you have a dedicated playroom, get the toys out of the bedroom! Coats, backpacks, and school stuff can be moved to the entryway or mudroom. Hooks serve a marvelous purpose here! You could also opt for something a little different and more of a statement, like we did. We have a set of four lockers that we painted a bright white. Each kid has an assigned locker, and that's where their daily-use stuff goes.
6. Use wheels to make room-sharing with young kids easier (and quieter). Put things that your kids like to use in carts with casters so they can roll it out of the room when siblings are napping. We do this with favorite books, art supplies, and things like puzzles and block sets. This way, if the baby needs to take a nap, the older boys can wheel out their activity cart and use it in the living room. We have two activity carts and could honestly use a couple more for different purposes!
7. Solve the problem of chaotic early morning wake ups once and for all! You know how once one kid wakes up, they're all up? I've been forced to come up with a solution to this common parental woe because it was do or die for me. Here's my solution: a giant digital clock. Get yours, hang it up, and explain what time it has to say for them to use loud voices and/or come out of their room. Get ready for a couple weeks of being annoyingly consistent! But then, all of a sudden, it works. One of two things will start to happen.
They'll either decide it's not worth waking up if they can't come out and begin to sleep longer, or they'll catch on to the rules and stay in their (somewhat) quietly until the magical time appears on their wall. Stick with it, and it gets awesome. I promise.